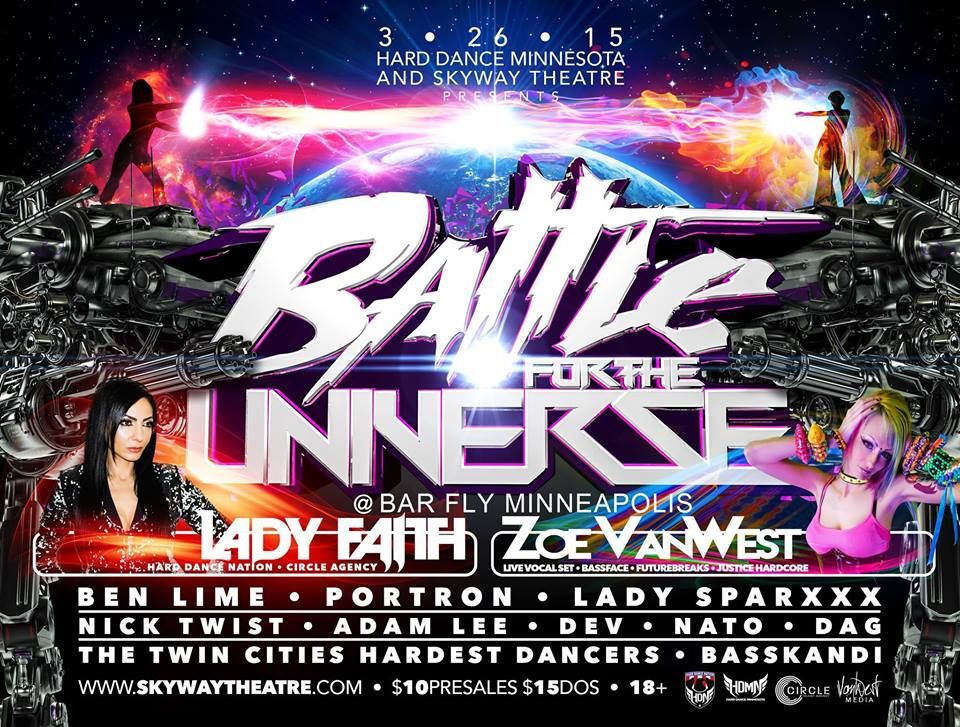 Monkey Bunny Inc. is proud to be participating in this spectacular event. We will be vending our awesome selection of rave and festival fashions and accessories. We'll have a great selection of Kikwear denim & non denim phat pants, microsuede pants, jeans, tee's & accessories and also our coveted selection of Public Beta Wear psychedelic blacklight reactive apparel for him and her and much more. Get a sneak peak of what you can expect to see, visit our online shop
www.monkeybunnyinc.com
‪#‎MBinc‬
https://www.facebook.com/MonkeyBunnyInc
Be sure to SUBSCRIBE to our e newsletter for monthly discount codes that you may use online AND at the event! Sign up for SAVINGS>>
http://tinyurl.com/m8eo8ec
Event:
https://www.facebook.com/events/768476546564328/
EVENT INFORMATION:
Switch Thursday and HDMN present: BATTLE FOR THE UNIVERSE ft. Lady Faith & Zoe VanWest - Bar Fly - 3/26
Switch Thursday & HDMN are excited to announce....
BATTLE FOR THE UNIVERSE ft.
LADY FAITH (L.A.)
[hardstyle]
Lady Faith has brought her unique stage presence and exemplary mixing skills to some of the biggest events in the country. She has quickly become a household name. With events throughout the United States, Canada, Australia, and Europe under her belt, she has set her sights on bringing American Hard Dance to fans across the globe.
With a unique blend of Persian sounds and pounding kicks, her tracks, "Donyaye Man", "Pleasure & Pain", "Carmen", "Rising High", "Moxie", "Queen Bitch", and "Disko Nights" have all been well-received by the Hardstyle community worldwide. With every new track, this flourishing hard dance storyteller will share more of her musical vision with the world. Be prepared to experience the unexpected and remember to always have FAITH in the sound that is Hardstyle!
ZOE VAN WEST (FL)
[UK hardcore]
http://soundcloud.com/zoevanwest
http://zoevanwest.tumblr.com/
http://youtube.com/theladydeva
w/ support from
Ben Lime
Portron
Lady Sparxxx
Nick Twist
Adam Lee
Dev
Nato
Dag
EXTRA SOUND AND LIGHTING.
It's going to be very LOUD!!!
Bar Fly
9pm | 18+
$10 Adv | $15 Door
Tickets available at
www.skywaytheatre.com
Bar Fly Minneapolis
711 Hennepin Ave. Mpls
612.333.6100
www.barflyminneapolis.com