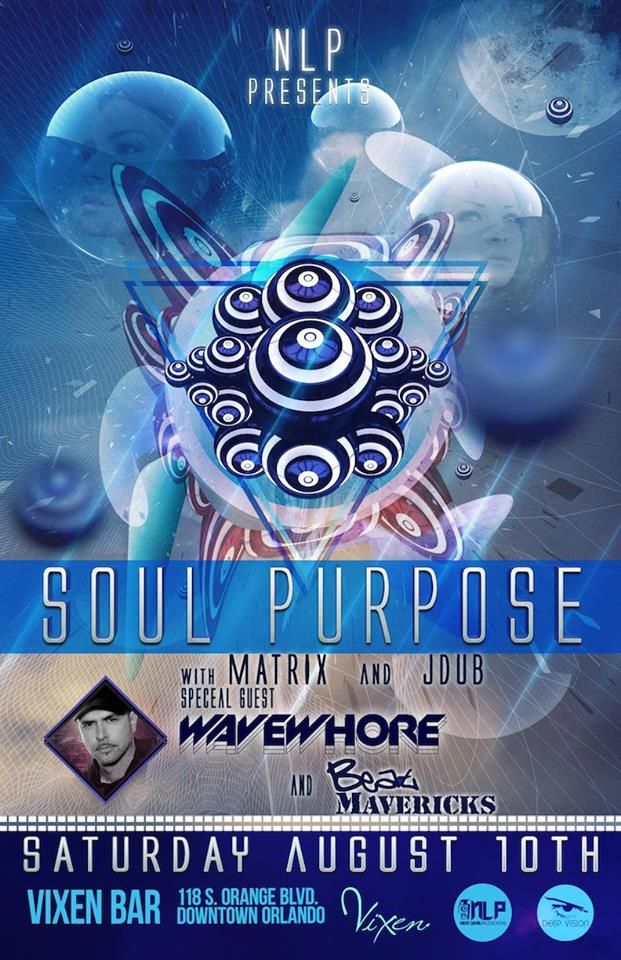 WAVEWHORE, BEAT MAVERICKS & N L P @ Vixen Saturday August 10th !!!
Special Edition of Soul Purpose ...
Featuring this month's Special Guest Selektors ::::
::: WAVEWHORE ::: New York, NY
iBreaks - Hardcore Beats - Broke Recordings - Bombtraxx - Electrofly Records – Baroque Records - Kick It – Scrape - BreaksFM
With releases on high profile record labels such as iBreaks, Hardcore Beats, Broke, Electrofly, Bombtraxx and Kick It, New York City based Wavewhore has established himself as one of the USA's leading electronic bass music producers. His skills behind the decks have also led to headlining appearances across the US, Europe and Asia and his music and mixes have been featured on many of the world's top broadcast media outlets including BBC Radio 1 London, WKTU 103.5 FM New York, KISS FM London, RTE Dublin, Sirius Satellite Radio and MTV.
Wavewhore has been called a "breakbeat master" by Liquid Todd (Sirius Satellite Radio) and "one of the USA's finest breakbeat DJ/producers" by Jay Cunning (KISS FM London) while Breakbeat Online described him as "NYC's finest export since the Beastie Boys". He began his career as a guitarist performing in clubs while he was still in high school and his first electronic release dates back to 1992. His cutting edge music has received high level support from many of the top names in the business including Aquasky, Jackal & Hyde, DJ Icey, The Freestylers, General Midi, Elite Force, Annie Nightingale and many more.
http://www.facebook.com/wavebreaks
http://www.soundcloud.com/wavewhore
http://www.mixcloud.com/wavewhore
http://www.twitter.com/wavewhore
::: BEAT * MAVERICKS ::: Vinyl Chemistry
https://soundcloud.com/beat-mavericks
https://www.facebook.com/beatmavericks
(Buddah-Kai & Dr. Dabble)
Future Sound of Breaks | Vinyl Chemistry Records | String Theory Recordings | Social Menace Clothing Co.
Formed in 2004, the Beat Mavericks (DJ's Buddah-Kai & Dr. Dabble) produce mainly Breaks and Electro. "Breaks have always had a grip on me. I can't get away from the beats and the bass." states Buddah-Kai. On the other hand, Dr. Dabble (as his name implies) has too many different beats, melodies, and bass lines to stay in one genre. He is always dabbling in all different styles of music while polishing his turntablist skills.
VCR001 was their first release on Vinyl Chemistry Records back in August 2005, which included the tracks "Empty Shell Residue" and "Target Rich Environment".
Their 2nd release, VCR002 in March 2006 consisting of the songs "Good Times" and "Are You Not".
Their 3rd release, STRR002 was in November 2009 when they were signed to String Theory Recordings with their remix of Dubclot's "Yout Man".
Their 4th release, VCR003 is being released worldwide on 4/29/2010 and is their first full-length album. Entitled "From The Bottom End", the album includes the following tracks: Bassline High, BootyFruit, Funkyfresh, Keep It Going, MusicPlay, Operatic Noize, Shake It (feat. Lima Lean), Spacestep, TickTock, & TK421. Over 3 years in the making, this bombshell of funky breaks & electro will surely get the crowds moving!
This last year saw even more momentum being gained by the duo with an official sponsorship by Social Menace Clothing. Long supporters & members of the Future Sound Of Breaks movement, the Beat Mavericks continue to tear it up at every party they play. Support from other underground strongholds such as Hydrophonic Entertainment continue to keep them in the spotlight.
Currently, their 5th release is their single "Moving Block" on Vinyl Chemistry Records featuring a dope-ass remix from one the hottest duos in electro...Code Rising so make sure to look for it 6/21/2013!
After years of spinnin' & cuttin' records, their focal point has shifted to production but both say, "However deep we get into production, we will always be DJ's."
And N.L.P. Residents :::
::: MATRIX & JDUB ::: N L P = Next Level Productions
https://soundcloud.com/matrix1212
https://soundcloud.com/justin1977
https://www.facebook.com/Jdub77777
https://www.facebook.com/THAREALMCCOY
Hosted by MCMB
NO COVER ALL NIGHT LONG !!!