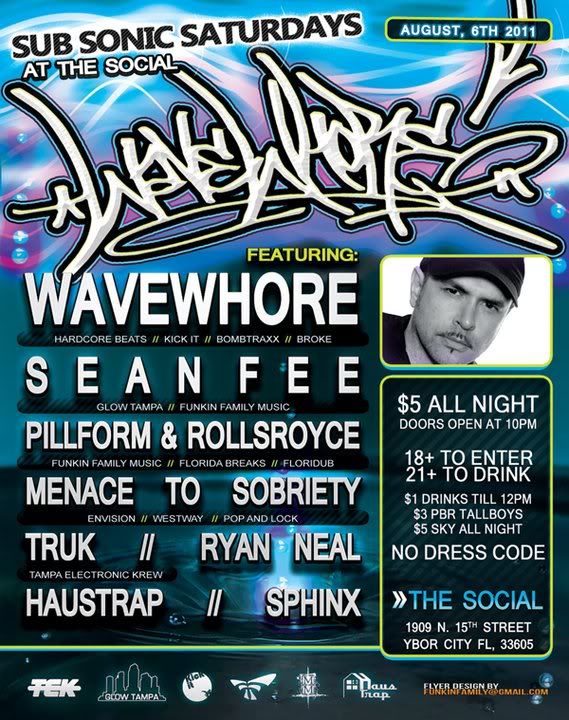 WAVEWHORE @ SUB SONIC SATURDAYS
Saturday - August 6, 2011
Celebrating a new generation of breakbeat and the many different directions it is heading in, Tampa Bay, Glow Tampa & TEK bring you a night of serious bass and killer breaks at Sub Sonic Saturdays. With many releases under his belt Wavewhore is a true treat for the Bay Area! Check out his latest releases on Beatport, including "Feel That Ammunition (Wavewhore Remix)" out now on Kick It Recordings and featured in the June issue of DJ Mag, as well as "Confide In Me (Wavewhore Dub)", which was recently heard on the Annie Nightingale show on BBC Radio 1. In addition, there will also be a bunch of your local favorites bringing you their own styles of breakbeat all night.
Wavewhore
With releases on high profile record labels such as Hardcore Beats, Broke, Electrofly, Bombtraxx, Kick It and BreaksFM, New York City based Wavewhore has established himself as one of the USA's leading breakbeat producers. His skills behind the decks have also led to headlining appearances across the US and in Europe and his music and mixes have been featured on many of the world's top broadcast media outlets including BBC Radio 1 London, WKTU 103.5 FM New York, KISS FM London, RTE Dublin, Sirius Satellite Radio and MTV.
Wavewhore has been called a "breakbeat master" by Liquid Todd (Sirius Satellite Radio) and "one of the USA's finest breakbeat DJ/producers" by Jay Cunning (KISS FM London) while breakbeatonline.com described him as "NYC's finest export since the Beastie Boys". He began his career as a guitarist performing in clubs while he was still in high school and his first electronic release dates back to 1992. His cutting edge music has received high level support from many of the top names in the business including Aquasky, Jackal & Hyde, DJ Icey, The Freestylers, General Midi, Elite Force and many more.
www.facebook.com/wavebreaks
www.soundcloud.com/wavewhore
Sean Fee
http://soundcloud.com/sean-fee
http://glowtampaevents.com
PillFORM & Rolls Royce
http://www.funkinfamily.com/
http://floridub.com/
Menace to Sobriety
http://soundcloud.com/mitchmitchem
http://www.facebook.com/MitchMitchem
DJ Truk
http://tampaelectronickrew.com/
http://soundcloud.com/dj-truk
Haustrap
http://soundcloud.com/haustrap
Ryan Neal
http://soundcloud.com/ryan-neal
DJ Sphnix
http://soundcloud.com/dj-sphinx
Venue:
The Social Club for Sub Sonic Saturdays
1909 N.15th Street
Ybor City, FL
10pm - 3am
18+
NO DRESS CODE!
$5 all night
Breakdancing, Glowsticks, Glowstrings, LED lights, LED gloves, LED hula hoops are welcome and encouraged…. bring your creative self and show everyone your skills!!!
NEW DRINK SPECIALS!!!
FREE WELLS all night
$3 PBR Tallboys
$5 Sky
$25 bottles of Absolut!!!
Facebook Event Link:
http://www.facebook.com/event.php?eid=104313139664763