Controlled Premonition Events Present: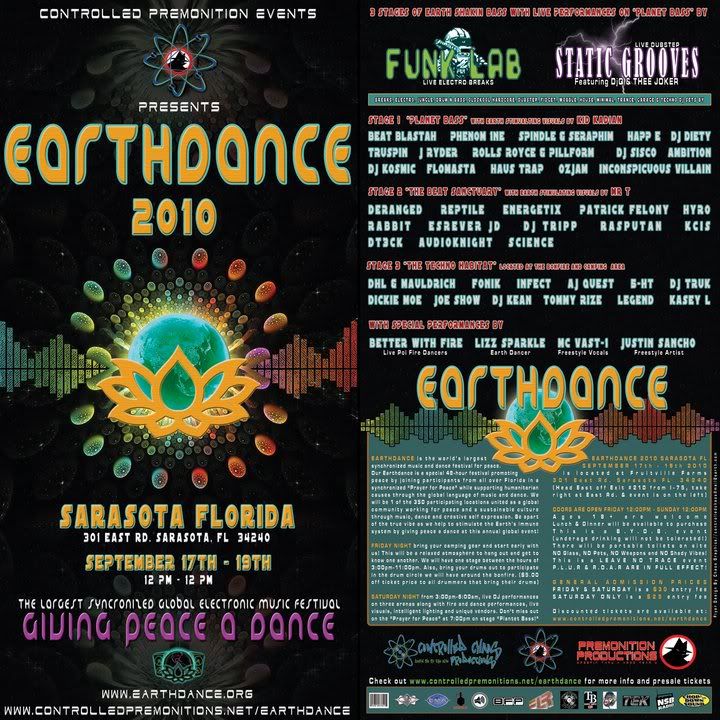 EARTHDANCE 2010 SARASOTA FLORIDA
a 48-Hour Electronic Dance Music Festival SEPTEMBER 17-19, 2010
Our Earthdance is a special 48-hour festival to promote peace by joining participants worldwide in a synchronized Prayer for Peace and to support humanitarian causes through the global language of music and dance. Be apart of the true vibe as we help to stimulate the Earth's immune system by giving peace a dance at this annual global event!
We are an Official Earthdance participant. Make a Profile and stay connected to our Earthdance network at
http://www.earthdancenetwork.com/group/ ... ceodessafl
We will be 1 of the 350 participating locations united as a global community working for peace and a sustainable culture through music, dance and creative self expression.
Come join us as we give peace a dance!!!
EVENT INFO:
-3 Stages of Earth Shakin Bass
-40+ music performances from all over Florida bringing you the best of
Breaks, House, Electro, Jungle, Drum n Bass, Dubstep, Hardcore, Trance, Garage & Techno
STAGE 1 "PLANET BASS"
Funk Lab "Live"
Static Grooves (DJ Q & The Joker) "Live"
Spindle & Seraphim "Prayer for Peace"
Beat Blastah
Phenom 1ne
Happ E
Rolls Royce
Pillform
OzJam
Inconspicuous Villan
Flomasta
DJ Diety
Truspin
J Ryder
DJ Kosmic
HausTrap
Ambition
DJ Sisco
MC Vast-1
STAGE 2 "THE BEAT SANCTUARY"
Deranged
Reptile
Energetix
Patrick Felony of Kryteria
EsreveR jD
Rabbit
Hyro
DT3CK
Audioknight
Rasputan
DJ Tripp
Kcis
Science
STAGE 3 "THE TECHNO HABITAT"
Infect
Dickie Moe
Joe Show
DHL
Mauldrich
Truk
Fonik
Legend
Kasey L
5-HT
Tommy Rize
AJ Quest
DJ Kean
-Earth Stimulating Visuals By KID KADIAN & MR. T
-Earth radiating intelligent lighting for ultimate stimulation
-Hula Hoop Dance Class Saturday from 5:00pm-6:00pm instructed by LIZZ SPARKLE (Hula Hoops will be available to purchase or to use for the class)
-Live Poi Performances by BETTER WITH FIRE
-At 7:00pm Saturday we will gather together at the Main Stage for the global synchronized "PRAYER FOR PEACE" introduced by SPINDLE followed by her hour set of ambient drumfunk/dnb
-We will also be raffling off tickets throughout the event for various prizes you could win! The main prize is an original canvas painting from the talented JUSTIN SANCHO (check out his artwork here:
http://www.justinjosephstudios.com/
)
-FOOD & BEVERAGE vending available throughout the whole festival:
• BBQ Ribs, Chicken, Pork, etc….
• Hibachi Chef cooking up some tasty Japanese stir fry
-Plus there will be many UNIQUE VENDORS there such as:
• SANCHO - Displaying original paintings and selling his print copies.
• P.J & JODI LA SAGE JOY (Antimony) - Selling original artwork & photography
• LIZZ SPARKLE – Selling "Club" clothing & Hula Hoops
• INK JUNKIES TATTOOS – Certified tattoo & airbrush artists (20+ yrs. of experience)
GENERAL INFO:
-Doors are Open From Friday 12:00 pm - Sunday 12:00 pm.
Friday (Day 1):
Bring your camping gear and start early with us! This will be a relaxed atmosphere to hang out and get to know one another. We will have one stage of sound between the hours of 3:00 pm - 11:00 pm. Bring your drums out to participate in the drum circle we will have around the bonfire.
***($5.00 discount to all drummers who bring their drums out to participate)
Saturday (Day 2):
From 3:00pm - 6:00am, live DJ performances on three arenas along with fire and dance performances, live visuals, intelligent lighting and unique vendors. Don't miss out on the "Prayer for Peace" at 7:00pm!
-General Admission
FRIDAY & SATURDAY is a $30 entry fee (this gives you full access to the whole event with camping privileges).
*You can purchase $25 pre-sale tickets at:
http://www.controlledpremonitions.net/
SATURDAY ONLY is a $25 entry free (this gives you full access to the whole event with camping privileges… but camping is limited and prime spots will be taken on Friday night)
*You can purchase $20 pre-sale tickets at:
http://www.controlledpremonitions.net/
-EARTHDANCE 2010 is located at Fruitville Farms - 301 East Rd Sarasota, FL 34240 (Exit 210 Fruitville, head East off highway, less than a mile turn right at E. Rd, follow it down…event map to be posted shortly)
-Ages 18+ are welcome
-Lunch & Dinner will be available to purchase.
-This is a B.Y.O.B. event (underage drinking will not be tolerated!).
-There will be portable toilets on site.
-NO Glass, NO Pets, NO Weapons and NO Shady Vibes!
-P.L.U.R & R.O.A.R ARE IN FULL EFFECT!
-This is a LEAVE NO TRACE event... Please respect this sacred land!
We Encourage:
-All attendees to respect the land, dance their ass off, & have a good time.
-All campers to bring a trash bag for their garbage.
-All smokers to bring an ashtray or dispose of their cigarettes in the designated ashtrays throughout of festival.[/img]